###Bookinform_button###
Gordon Edge
Exclusive for Austria
Bio
Whether it's a dark dingy underground club in deepest darkest Siberia, or dancing on the tables in the sunshine at Bora Bora, Ibiza, if you're lucky enough to catch Gordon in action it will be always be an unforgettable experience that you will remember forever.
Gordons unique notoriety has kept him in continual high demand, as a DJ Gordon has appeared in practically every country throughout the world with 2008 being no exception. In this year alone he has rocked the crowds in Lithuania, Spain, Germany, Kazakhstan, Bahrain, Dubai, Egypt, Austria, Switzerland plus grand tours of Russia, India and South America, including appearances at Pacha, Sirena & El Divino in Brazil. After the success of this years India tour Gordon was honoured to be asked to return to India for the Launch of GQ Magazine in Mumbai amongst a whole host of 'A list' celebrities from the world of Bollywood.
Ibiza, is Gordons second and spiritual home, after arriving on the island in 1998 a 2 week holiday turned into a whole summer, and he fell in love with the island so much he bought a home there! He quickly became widely known as the DJ with the trumpet, and tagged the "trumpet man" alias. He went on to become a regular feature at all the major venues on the island, including Pacha, Space, Amnesia, Privilege & El Divino and was soon snapped up for a coveted residency for the infamous Bora Bora, where in season you can catch him playing his marathon 5-8 hour sets at the worlds most renowned beach venue.
With such international demand it's a wonder the Gordon ever gets time to come home, but not forgetting his roots, back on UK terra firma he holds a residency for Kinki Malinki, and is a regular feature for Mynt in Belfast & The Gallery at Ministry of Sound.
As a trumpet player he not only played for Sade on her world tour but also for Madonna at private parties she hosted in Miami & New York.
Gordon has released over 170 12" records under such names as DJ Edge, Trumpetman, Edge Test, Trumpet Thing, Digital Domain, Gordon Matthewman & Gordon Edge, many of these on his own labels EDGE Records, Rabbit City Records and XVX Records selling well over half million world wide. True highlights have included legendary hardcore classic: 'Edge *1 – Compnded' (1992), enormous Ibiza anthem: 'Gordon Matthewman – Itza Trumpet Thing' (1998) & the Colossal 'Gordon Edge – Set Your Body Free / Trumpet Funk', released on Eric Morillo's award winning Subliminal Label (2005). Gordon's tracks have also featured on countless compilations over the years, including Café Del Mar, Real Ibiza, Budda Bar and many Ministry of Sound compilations. Now hard at work in the studio again watch this space for the next exciting instalment from the legend that is…GORDON EDGE
Videos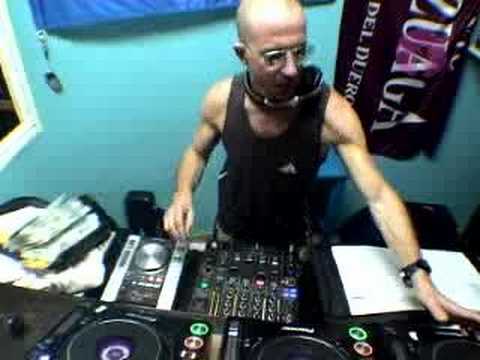 Downloads