###Bookinform_button###
Tiësto
Exclusive for Austria
Bio
Whether it be the 250,000 revelers coming together at Ipanema Beach in Rio De Janeiro, the adoring clubbers who descend upon Privilege in Ibiza on a Monday night every summer, the 25,000 fans en masse at Victoria Park in London or the 26,000 filling Home Depot Stadium in Los Angeles, all are in attendance for the same reason: they've come to see Tiësto, the world's biggest DJ/Producer!
Tiësto, a.k.a. Tijs Verwest, is a performer who's transcended musical genres to create a global "Tiësto brand." His achievements include a Grammy nomination, numerous MTV awards, performing at the opening ceremony of the 2004 Athens Olympic Games, and even a wax statue at Madame Tussauds. With over 9 million followers on Facebook and over 240 million hits on YouTube, Tiësto has truly become a universal phenomenon.
Recently voted 'The Greatest DJ Of All Time' in a poll conducted by leading dance music publication Mixmag, Tiësto has worked with artists as diverse as Nelly Furtado, Yeah Yeah Yeahs, Goldfrapp, Jónsi from Sigur Rós, Diplo, and Busta Rhymes. When he's not collaborating with the world's most respected artists he's jet setting his way around the globe playing sold out shows to his adoring fans. His 2010 "Kaleidoscope World Tour" spanned more than 15 months and 175 dates across six continents playing to over 1,000,000 people. The hugely successful tour was recognized by Billboard Magazine who nominated Tiësto for two 2010 Billboard Touring Awards and placed him among Billboard's Top 25 biggest grossing touring acts of 2010.
If you are the world's #1 DJ/Producer at some point you have to conquer Las Vegas and January 2011 saw the launch of "Tiësto In Concert" at The Joint in The Hard Rock Hotel & Casino. The monthly residency plays to over 4,000 people a night and offers a remarkable live music experience at one of the most dynamic venues in Las Vegas. "Tiësto In Concert" features a visual presentation simply unmatched in the dance music industry and includes a mesmerizing exhibition of lasers, light shows and massive LED screens.
Just in time for the start of the 2011 fall college semester Tiësto embarked on his "Club Life College Invasion Tour," the largest dance music tour to ever hit the American college market. Tiësto is currently headlining the two-week tour with stops at campuses across the United States and Canada. The final stop on the tour takes place on October 8, 2011 at the Home Depot Stadium in Los Angeles – home of the Los Angeles Galaxy soccer team – and with a capacity of 26,000. This will be the largest single DJ show in US history.
On the recorded music front, April 5, 2011 saw the release of his latest mixed CD "CLUB LIFE – Volume One Las Vegas." This is the first in a brand new 'CLUB LIFE' series that replaces 'In Search of Sunrise', one of the most successful DJ mix compilation series of all time. Released through Tiësto's own Musical Freedom record label, the album features 15 of the hottest new tracks and remixes from the best in dance music all mixed seamlessly by Tiësto.
Musically, Tiësto has been experimenting more than ever before and the aptly named Musical Freedom label allows Tiësto to sign artists and release music that as a fan he would listen to. Musical Freedom had immediate success with 'C'Mon', the massive Tiësto vs. Diplo collaboration that churned up dance floors worldwide in 2010. The track has since been reworked as 'C'Mon (Catch 'Em By Surprise)' with none other than Busta Rhymes who adds his raw and energetic vocals, taking it in an entirely new direction. This new version is a worldwide top 10 hit and the music video has surpassed over 8 million views on YouTube.
In 2011 Musical Freedom continued to produce monster releases that include Dada Life's "Unleash The F**king Dada" and "Happy Violence," Tiësto vs Hardwell's "Zero 76," Henrik B's "Now and Forever," Tiësto & Angger Dimmas' "We Rock EP," Sandro Silva & Quinito's "Epic" and Tiësto's own brand new singles "Work Hard Play Hard" and "Maximal Crazy."
Always on the cutting edge, Tiësto is leading the way when it comes to working with some of the world's most successful and recognizable brands. He's been involved in hugely successful campaigns with Armani Exchange, SanDisk, Heineken, Smirnoff and Škoda; and he was recently named as the official European Ambassador for Activision's "DJ Hero 2." Tiësto was also featured on the September 10, 2011 cover of top US music trade Billboard Magazine. The article focuses on Tiesto's enormous success with global branding and why top lifestyle brands love working with him.
With the launch of his Musical Freedom record label, the release of "CLUB LIFE – Volume One Las Vegas," his monthly residency at The Joint at the Hard Rock Hotel & Casino in Las Vegas, the CLUB LIFE WORLD TOUR and the "Club Life College Invasion Tour" in full swing, 2011 is shaping up to be yet another huge year for Tiësto.
We can only imagine what he has in store for 2012 and beyond. Watch this space!
Videos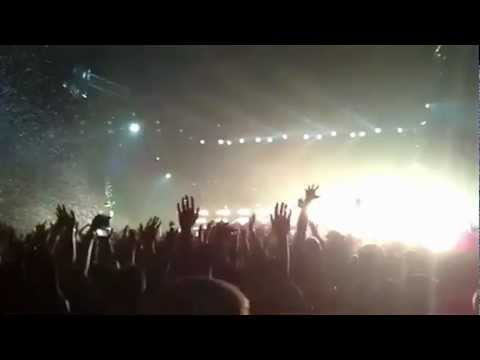 Downloads